The C3 chapter for creators is the spirit of the C3 universe in a different body. We wanted to go an extra mile in bringing community enthusiasts together and this time, it is not just about community building but niche communities and their successes. That is when identifying captains seemed like the right thing to do, and we found the superheroes from the C3 universe.  After all, the beauty of a community shines when the responsibilities are distributed and each member becomes a vital part. C3 for Creators chapter is our first learning curve that way.

C3 chapter Superheroes are our best people who will carry the essence of C3 and spread it among their chapter circle. And we have Vasishta Chary and Vineet Nandan Gupta to do the honors in kick-starting C3 for Creators first episode. . They succeeded to gather Riddhi, Vanshika, Himanshu, Priya, Prathiksha, Shraddha, Chirag, and krittika to spice up the event. The superheroes started with the crucial pieces that are common for both creators and the community: Content!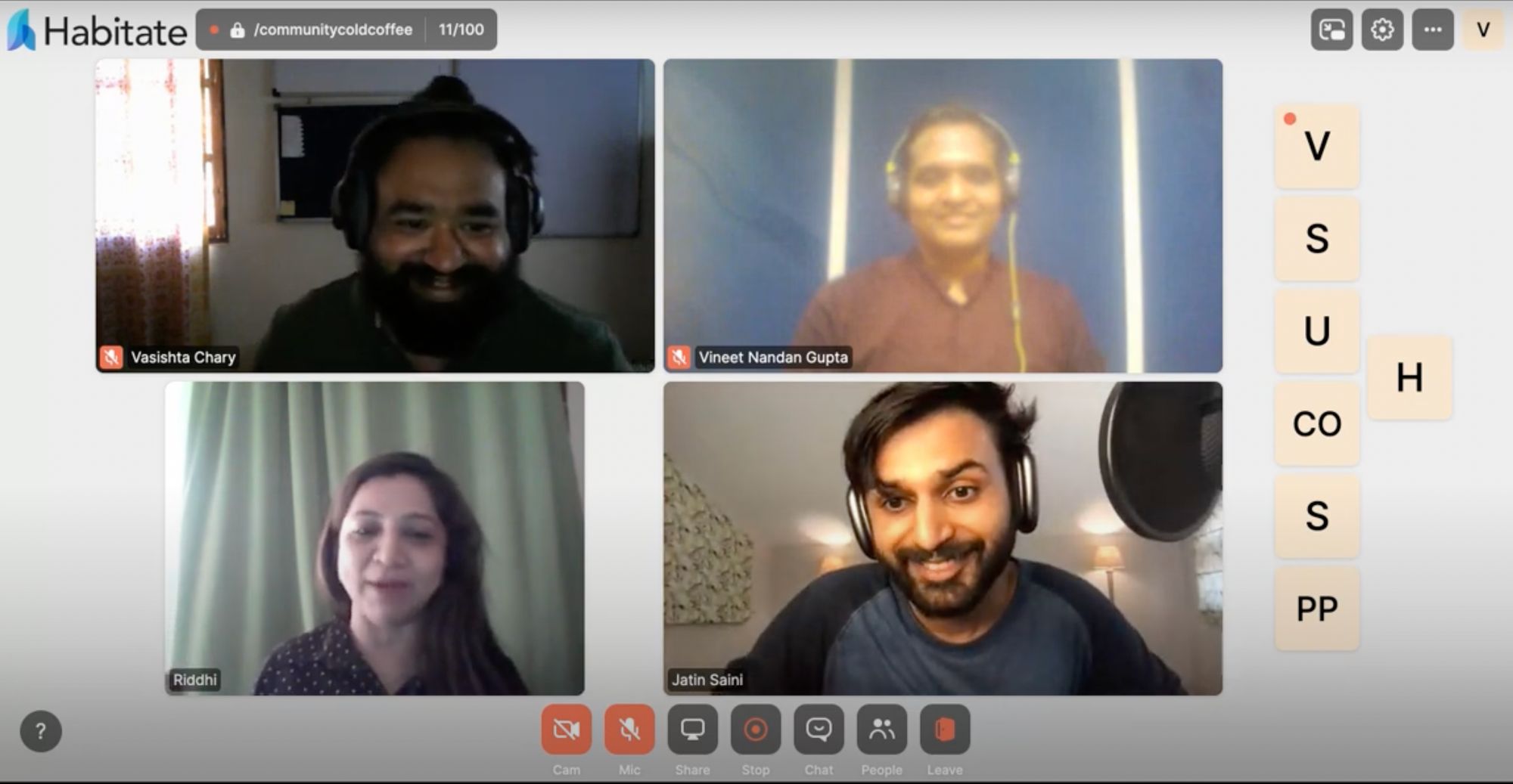 When‌ ‌Content‌ ‌meets‌ ‌Community‌ ‌ ‌
A‌ ‌community‌ ‌cannot‌ ‌miss‌ ‌uttering‌ ‌the‌ ‌word‌ ‌'content'‌ ‌and‌ ‌it‌ ‌goes‌ ‌well‌ ‌with‌ ‌the‌ ‌creators‌ ‌as‌ ‌well.‌ ‌Especially‌ ‌after‌ ‌covid‌ ‌hit‌ ‌us,‌ ‌the‌ ‌world‌ ‌started‌ ‌craving‌ ‌for‌ ‌good‌ ‌content‌ ‌and‌ ‌a‌ ‌lot‌ ‌of‌ ‌people‌ ‌even‌ ‌ended‌ ‌up‌ ‌crafting‌ ‌some‌ ‌of‌ ‌their‌ ‌own‌ ‌in‌ ‌the‌ ‌online‌ ‌space.‌  ‌And‌ ‌it's‌ ‌high‌ ‌time‌ ‌we‌ ‌get‌ ‌started‌ ‌to‌ ‌dive‌ ‌deeper‌ ‌into‌ ‌all‌ ‌the‌ ‌aspects‌ ‌like‌ ‌how‌ ‌to‌ ‌bring‌ ‌an‌ ‌intersection‌ ‌between‌ ‌community‌ ‌and‌ ‌how‌ ‌content‌ ‌creation‌ ‌can‌ ‌leverage‌ ‌a‌ ‌community?‌ ‌And‌ ‌of‌ ‌course‌, ‌gain‌ ‌an‌ ‌upper‌ ‌hand‌ ‌in‌ ‌today's‌ ‌world.‌ ‌
But‌ ‌how‌ ‌to‌ ‌start‌ ‌it?‌ ‌Here‌ ‌are‌ ‌some‌ ‌tips‌ ‌from‌ ‌the‌ ‌session‌ ‌
‌●Start‌ ‌small‌ ‌
‌●Make‌ ‌use‌ ‌of‌ ‌your‌ ‌free‌ ‌time‌ ‌ ‌
●Nurture‌ ‌what‌ ‌interests‌ ‌you‌ ‌and‌ ‌build‌ ‌around‌ ‌ ‌
●Experiment‌  ‌have‌ ‌your‌ ‌pick,‌ ‌the‌ ‌best‌ ‌set‌ ‌of‌ ‌people‌ ‌can‌ ‌create‌ ‌so‌ ‌much‌ ‌value‌
‌ ‌"We‌ ‌all‌ ‌are‌ ‌content‌ ‌creators,‌ ‌just‌ ‌that‌ ‌we‌ ‌have‌ ‌let‌ ‌that‌ ‌area‌ ‌simply‌ ‌‌RUST‌ ‌IN‌ ‌PEACE‌."‌
How to juggle right to create content?
Here is what our special guest Jatin Saini (Content creator + Brand manager + Community builder) who kickstarted C3 for Creators had to say.
"It's all a game of prioritizing. When a community is a passion burning in you, creating quality content is no joke. It is time-consuming and it might ask you to sacrifice your me-time, your lazy days, but because it's worth it, we do it. Understanding the value of it will push us to prioritize and make time for content creation for a community. And that's how you juggle right between your work life and your community life."

Ps: Community doesn't let you move away from it, it's like an addiction or maybe that's how the community works, it makes you feel guilty when you don't show up for it … So to hold on to the community is the smartest of all the decisions you make in your life.

2.  "Empower people to come and run the community with you- create a stunning inner circle who thinks the same thing you think and pass on the responsibilities and start working together. Make community run itself"
How to motivate people? How do events help?
"Increase the incentivization. Take it out live. Do it together." This is Jatin's mantra. Now, this is how the event goes. Things are important from the start and so in the beginning, the host shares the post as he's making the post, this will add value to create curiosity and excitement and during the event, the host keeps on being the cheerleader to shout out "hey come on talk about it, keep going" and at the end of the event the host again comes to the post.
Here, after the event or during the event the host will encourage people to use the content curated for themselves on different platforms, but he/she also emphasizes to come back and tell them that they are making use of the content from them. By this, you get to know each other, what each of them does, why they are interested, and more.

"In the end, you build good relationships. If events can do such magic why not?"
Takeaways from the C3 superheroes themselves
"One cannot ignore the power of social media in a community" Creating content for community and community driving the content, this entire intersection is valuable.
Community and content creation with no doubt are words that shake hands. And to hold them both tight is going to take a pinch of passion and love to mend things together, and I bet it's gonna be worth it. At the end of the day, all that matters is if you are happy to hit the day with things that you love.
Experiment, learn, be crazy, test your limits, and make each day worth it. And that's how we made our Saturday worth it with C3 chapters.
C3 is a candid conversation that tries to get deep down at aspects that revolve around the community and the C3 chapters are one torchbearer to spread the love of community.
Wanna be part of amazing sessions like these? Join the C3 community and watch out for our next C3 for Creator's chapter catch up here